What would you like us to know about Ukraine...the Ukraine where you lived and were welcomed by your community. What was your assignment...tell us about your daily life...your work, family, house, etc.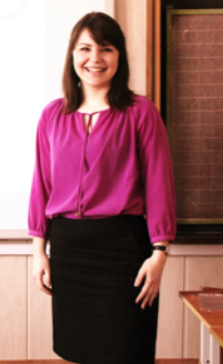 Ukraine will always hold a very special place in my heart, both due to the relationships I established during my Peace Corps service, and the historical moments I witnessed during that time.
Though I had some international experience under my belt, Ukraine was a whole new world to me when I arrived in the fall of 2013 as a Secondary Education Volunteer. After undergoing an orientation with my fellow Education PCVs in Chernihiv (near the border with Belarus), I was placed in a four-person Pre-Service Training (PST) group in a nearby village. In that village, I was welcomed into the home of a warm Ukrainian family (parents and a daughter in her early 20s, plus another daughter with her family nearby) who were patient beyond all belief with my non-existent Ukrainian language skills. Like most of the villagers, they had a cozy home with bountiful gardens and a seemingly infinite supply of pickles. I was never a fan of pickles in the US, but they certainly made me a convert!
During PST, I had breakfast with my host mom every morning, then headed to language class with my PST mates. There, we had work, work, and then more work with our wonderful Language and Cultural Facilitator (LCF). After language training, we also worked with our LCF on teaching and other cultural training. We also began observing classes in the local village school, soon progressing to co-teaching English classes with a very eager audience of Ukrainian elementary school kids. On the weekends, we spent time in the nearby city of Chernihiv. There, we attended class with other PST groups, enjoyed exploring the city and its cafes, and even taught English club lessons at the local library.
At the end of my PST, I was assigned to serve as an English teacher at a gymnazia (type of high school) in a town on the other side of the country, not too far away from Romania. My counterpart met me in Kyiv, where we participated in my swearing-in ceremony together, then we took a 12-hour train ride to my new home. I immediately fell in love with the town, as it's nestled against a river and surrounded by beautiful cliffs and rolling hills. More importantly, I was warmly welcomed by the school and local community.
Over the next two months, I settled into my new home, celebrated Christmas and the Ukrainian winter holidays, enjoyed teaching and getting to know my students and colleagues, and established a warm friendship with my counterpart and her family.
However, this was unfortunately not to last. Back in PST, political turmoil had struck Ukraine when then-President Yanukovych of Ukraine suddenly rejected the Ukrainian-European Association Agreement, which then sparked what was to become the Revolution of Dignity. Over the next several months, I watched as Ukraine rallied around demands for a new future, a rejection of its past indignities. Tragically, I also witnessed senseless murders in Maidan on livestream as innocent civilians were taken out by security forces. Eventually, as the situation escalated, Peace Corps made the decision to evacuate all PCVs from the country. On February 24, 2014, eight years to the day of Russia's latest invasion into Ukraine, I left Ukraine, effectively ending my time there as a PCV.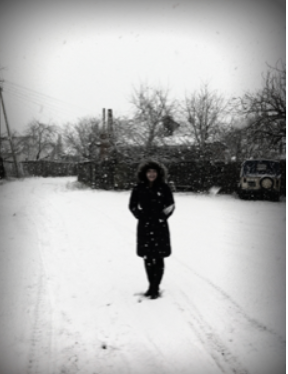 What were some of the highlights...and some challenges?
To me, the highlights of my service were the quiet times spent enjoying the company of my host family and later my counterpart's family. Whether it be learning about effective potato-peeling techniques (Americans can't hold a candle to Ukrainians' peeling skills) or swapping stories over delicious food, it was the simple moments of connection that I remember most fondly. The most memorable day of my PST was certainly when my host family had slaughtered their pig and had first tried to hide it from me because they were afraid that I would be traumatized as a young American, not understanding that I had grown up in rural Kentucky and had been exposed to such things before. We all had a big laugh over that realization and feasted on the labors of their work that day, including some of the local dishes like salo, or fatback (essentially the hard fat on a pig).
Another major highlight was my time with my students and the school environment that I was lucky enough to work in. My students were endlessly impressive to me, all involved in a million activities and not afraid to dream big. They were also very active in the political moment at that time and clearly wanted to chart a new path forward for their generation. It was pretty awe-inspiring, to say the least.
My service wasn't without its challenges, though, as I arrived at my site in mid-December and was suddenly living on my own in a new town. As an introvert, it was really hard some days to put myself out there and bumble around with limited language skills. However, that challenge paled in comparison to the experience of living through the revolution and eventually being evacuated. Myself and other PCVs felt helpless as we watched the situation unfold, then we eventually had to evacuate without being able to say goodbye due to security reasons. That is still one of the most emotionally challenging days I can remember.
What have you taken away from these experiences...how have you been changed? Do you see the world differently?
It's hard to encapsulate all that I learned from my experience in Ukraine and how much I changed. In short, it made me realize the impact that small moments of simple human interaction can have.
When I first arrived in Ukraine, everything was so new. While I was certainly enjoying the experience of engaging in a new culture and all that comes with it, it was still exhausting and overwhelming at times. It felt more so when I tried losing myself in my studies, trying to absorb all the language technical knowledge that I could to be successful as a PCV in that environment.
Yet, it was in those quieter moments of simple connection with my host family or colleagues that I saw new understandings emerge, both for myself and for the other party. For me, it reinforced the notion that these types of interactions are where effective change and progress of all kinds comes from. Though larger structural work is also necessary, whether it be in Ukraine, the U.S., or elsewhere, actively listening to and engaging with all voices is where the most understanding and progress come from.
Let's talk for a few minutes about the horrific war. How has this impacted you personally and others you served with and been in touch with...here and in Ukraine?
The war in Ukraine has been devastating and surreal. On a personal level, I continue to feel shock, outrage, and deep sorrow on a daily basis. From the Ukraine RPCVs that I am in touch with, I am certainly not alone in that feeling. I feel helpless as I watch the news unfold and see the atrocities committed in places I once called home. Chernihiv, for example, has been on the frontlines and is now a shell of the city I once knew. Human Rights Watch is now saying that war crimes have been committed there and the nightmare is just seemingly endless. Myself and other Ukraine RPCVs are doing all we can through our networks to connect resources and information to aid Ukrainians and keep the momentum of support alive from the U.S.
What do you know about your village, your neighbors and friends...?
For my PST village outside of Chernihiv, I lost touch with my host family several weeks ago after the initial invasion and have not been able to confirm their safety. I hope with all of my heart that they were able to escape the area but honestly do not know. For my counterpart, she was able to flee the country but her husband remains behind to fight. For other friends and colleagues, it's a hodgepodge of those that have stayed in western Ukraine and those that have fled. Something I often think about, though, is how all the boys I once taught are now men fighting for the freedom of Ukraine.
As our conversation draws to a close, please tell us how can help the Ukrainians, the country and people you hold so dear? Tell us about the work of Alliance for Ukraine, the RPCV group.
On the most basic level, keep the attention on Ukraine. We know that the attention span of many is tied to the news cycle— don't let the conversation and resources die out. Keep standing with Ukraine. If you have resources you can commit to aid Ukrainians, I urge you to turn to the Alliance for Ukraine and their fundraising effort that is bringing crucial first aid kits to the frontlines in Ukraine. The individuals behind this effort are working tirelessly to get these supplies into the hands of those that need it most and your donation can go a long way. Additionally, outside of the efforts of the Alliance for Ukraine, I recommend that you support The Voices of Children Foundation (https://voices.org.ua/en/), a Ukrainian non-profit established in 2015 that provides psychological and psychosocial support to children affected by armed conflict, in addition to other emergency assistance.
Anything else you'd like to comment on?
During this horrible situation, let us remember that our outrage and sorrow should not be reserved for Ukraine alone. There are other atrocities and refugees that also deserve our sustained attention and resources. As I've seen the RPCV community rally in solidarity during the war, I've been reminded of the tremendous network and resources at our disposal. We should certainly continue to use them for the countries where we served, but within this unique community, we can also broaden our work as well.