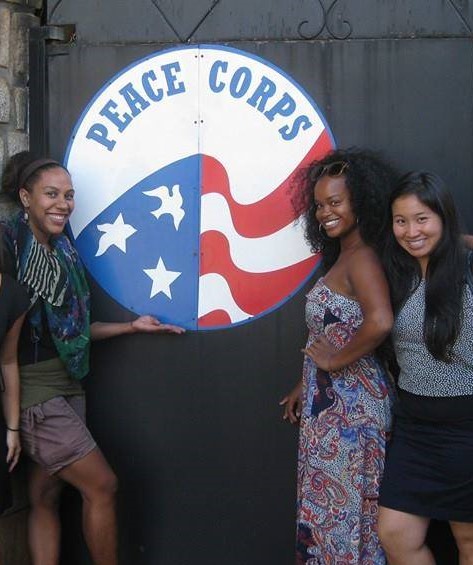 [Image description: Monica smiles in front of a gate with the Peace Corps logo painted on it in Madagascar. She stands center between two fellow Peace Corps volunteers.]
This Wednesday, as part of our Woman Crush Wednesday (#WCW) series, we hear from Monica Dukes, a teacher in Washington, DC and a Returned Peace Corps Volunteer (RPCV) who served from 2012-2014 in Madagascar. With September marking the start of school for most Americans, we are beginning a new series to showcase the perspectives of those working in education in the time of Covid-19. We thank RPCV Monica for being gracious enough to share her unique perspective as an educator.
Although Agribusiness was her primary project while serving in Madagascar, Monica volunteered teaching English at a nearby middle school as a secondary project. Despite having been encouraged to pursue a teaching career earlier in life, she had not thought it was the path for her. After being exposed to teaching in Madagascar, she realized that she enjoyed educating youths and explored different opportunities to live out her newfound passion. "I guess you could say that my passion for teaching was discovered through teaching English in Madagascar."
Monica has now been working as a Special Education Teacher since she began her teaching career. Currently, she teaches at a Title 1 school in the inner-city in Washington, D.C., having made a move this year to teaching students with Autism in a self-contained Kindergarten through Second Grade classroom.
Managing her work-life balance has been a task that she approaches bravely, taking things "one day at a time." Monica stresses that organization is the key to navigating these challenging times. "As a teacher, you have to be very flexible," and Monica asserts that Covid-19 has been pushing "flexible" to otherworldly limits. On top of working as a teacher, Monica is embarking on her first semester as a graduate school student.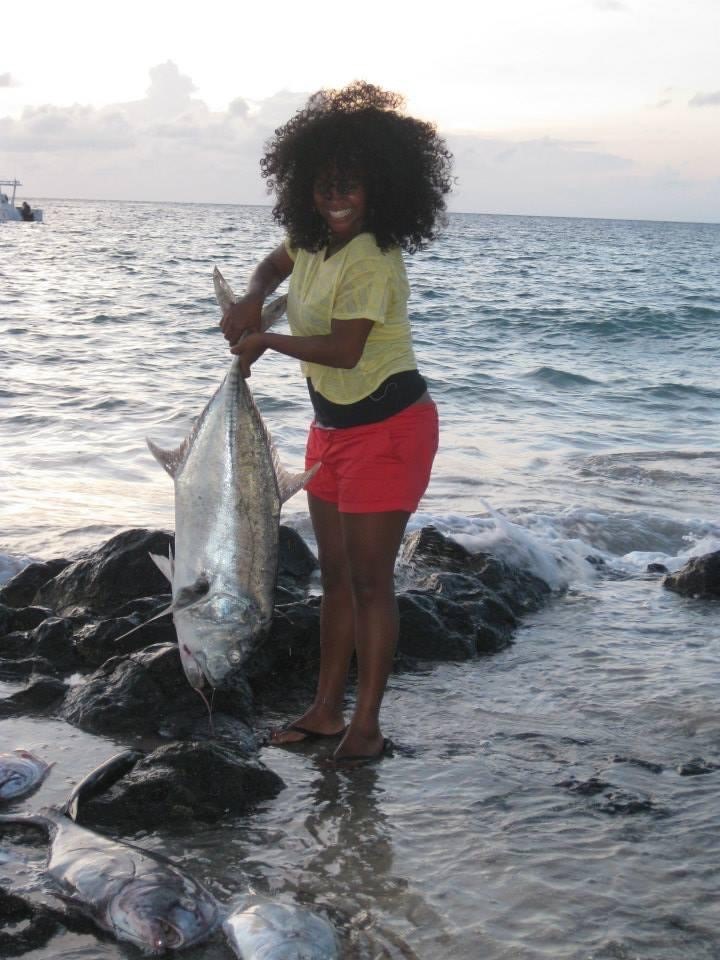 [Image description: Monica holds up an enormous fish while smiling in front of a beautiful ocean backdrop in Madagascar.]
When asked about her comfort level on returning to school, Monica explained that she does not feel comfortable going back to school until it is safe. She does not think it is fair that teachers have to choose between work and their families. Most businesses think the pandemic is dangerous enough for their employees to stay home. She questions why educators are not afforded the same respect.
Returning to school would entail taking the metro, walking the streets, and of course, being inside the classroom with her students. After being at school, the students would go back home to their families, ultimately creating a massive web of contact opportunities for students and teachers alike. From Monica's point of view, going back into the classroom right now does not seem safe or equitable.
As an experienced educator, she believes most teachers would say that they are not happy staying home. "Distance learning is incredibly challenging as most platforms are constantly crashing since Internet connection is often unstable. There are always a million and one distractions going on in the background. Every teacher in the world would prefer to be at school with their students. Every teacher wants and needs hugs! Every teacher loves using the classroom to be their most creative version of themselves. There are so many barriers that stand between us and our kids' learning, which is a challenge that we are fighting to overcome daily."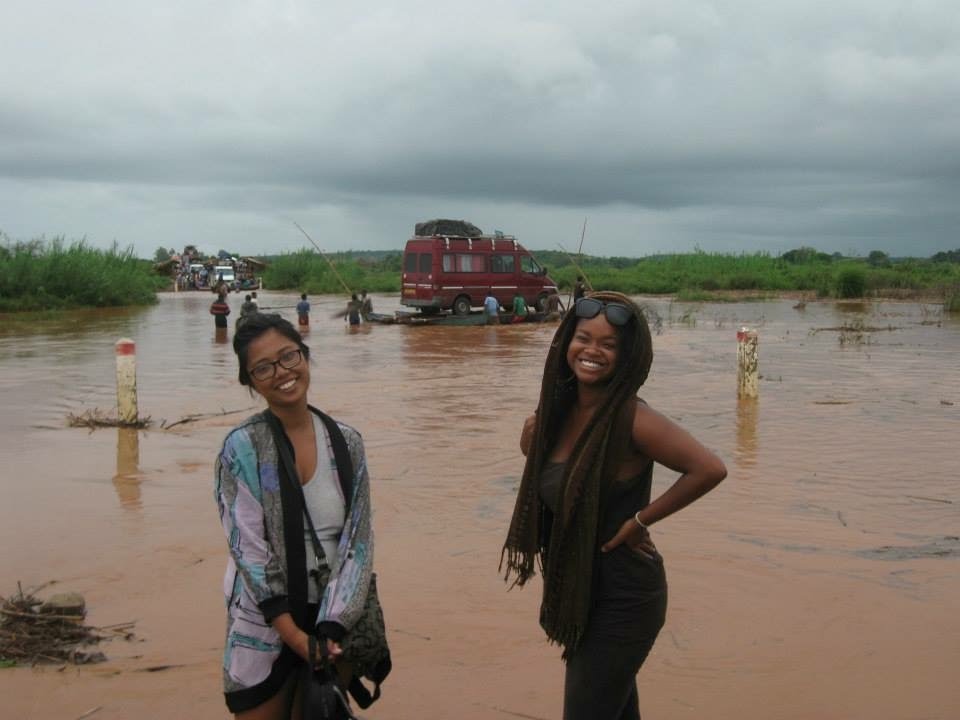 [Image description: Monica stands (right) with a fellow Peace Corps Volunteer on a typical atypical day after their bus encountered a flooded road during cyclone season in Madagascar.]
Fortunately for Monica, she sincerely feels her time with the Peace Corps helped prepare her for the challenges that she must face daily. She recalls that they never had a stable Internet connection or a predictable day. Being a Peace Corps volunteer helped her to become the flexible person she is today. To get through the Peace Corps, she and fellow volunteers had to take it one day at a time because, in her experience, nothing ever went according to plan. Monica feels that her overall attitude has helped her stay "semi-sane" throughout the pandemic and believes she fully-developed that attitude with Peace Corps' assistance.
Thank you Monica for all you do! If you know someone who is teaching and you want to nominate them for this blog series email womenofpeacecorpslegacy@gmail.com!