This week our #WomanCrushWednesday is RPCV, lawyer and changemaker Jessica Alcántara. In October, Jessica became the inaugural Kate Raftery Emerging Leader Award recipient for her exceptional work in the fight for equal access to education. Get to know Jessica as we continue our celebration of her and her work.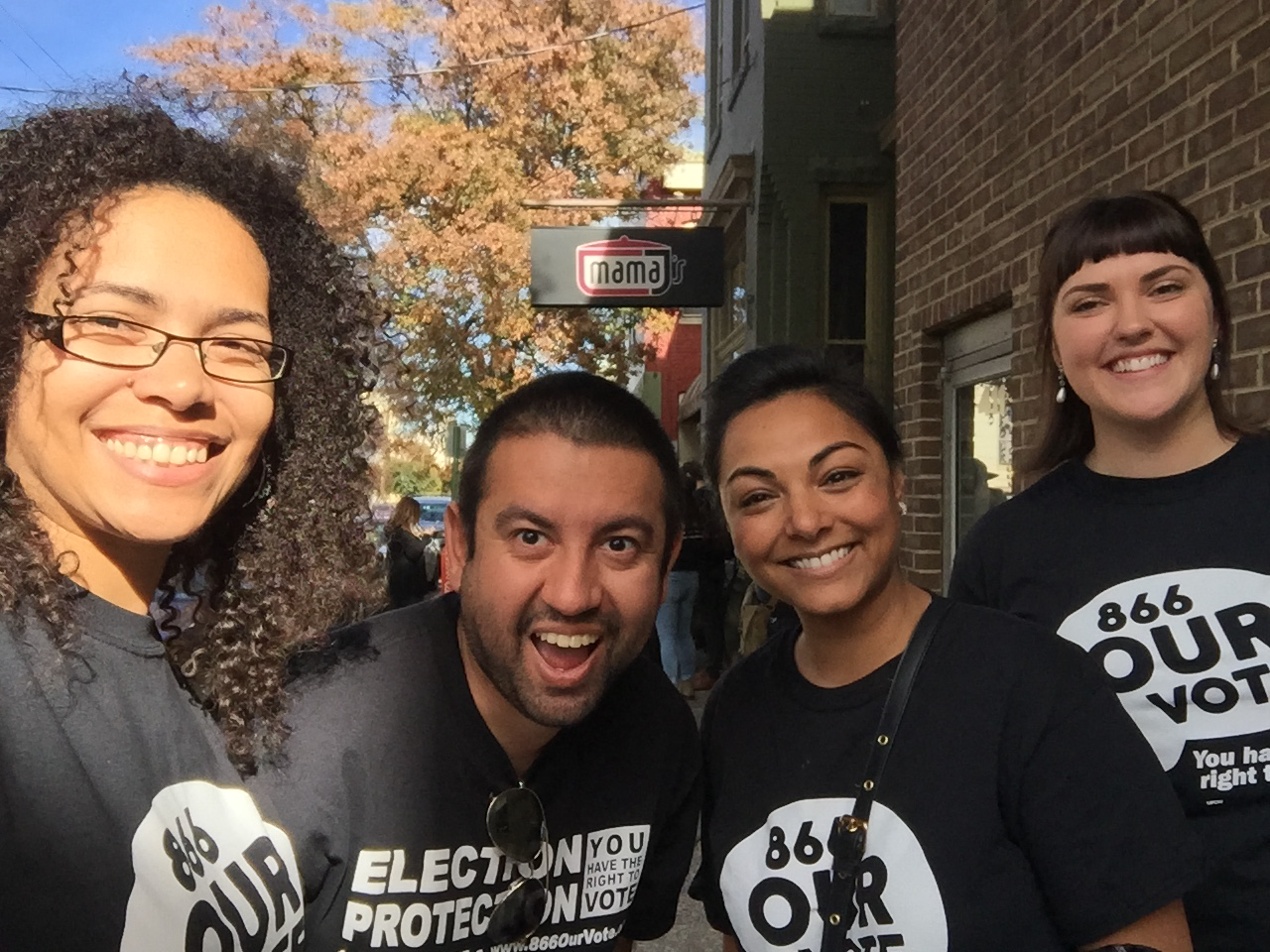 [Image description: Jessica (left) smiles with coworkers from Advancement Project while doing Election Protection in 2016]
Jessica's experiences early on in her own education path illustrated for her the disparities across the education system in the United States. Jessica grew up in Washington Heights in New York City and attended her local public schools. Her elementary school was one block away from where she lived. After third grade, she transferred to the magnet school, The Mott Hall School, located in Harlem, thanks to a teacher's recommendation. Like Jessica, most students at both schools were Dominican, and almost everyone came from an immigrant family. Due to another teacher's recommendation, Jessica applied to and was accepted to the Prep for Prep program, a leadership development program for inner-city kids of color that prepares them for preparatory school. Through Prep's support, Jessica attended high school at the boarding school Phillips Academy Andover. The world of P.S. 128 and Mott Hall was drastically different from that of Andover. Though Jessica had loved Mott Hall, her school's gym was an empty classroom, and for large assemblies, they would have to walk down the street to a high school nearby. Andover was a sprawling campus with multiple sports fields that she had never heard of, like lacrosse, field hockey and squash. After deeply enjoying her time at Andover, Jessica sought a similar experience for her undergrad, deciding to attend Dartmouth College.
Jessica's experiences made clear to her that there existed a completely different type of education system for those who were rich and predominately white. There was an entire universe of opportunity and access that was simply unknown to students like her who came from poorer, working-class families of color. "I was lucky to have that access, but I always wondered why the rest of my classmates at P.S. 128 or Mott Hall couldn't also have those opportunities. Maybe some of them would've enjoyed lacrosse?"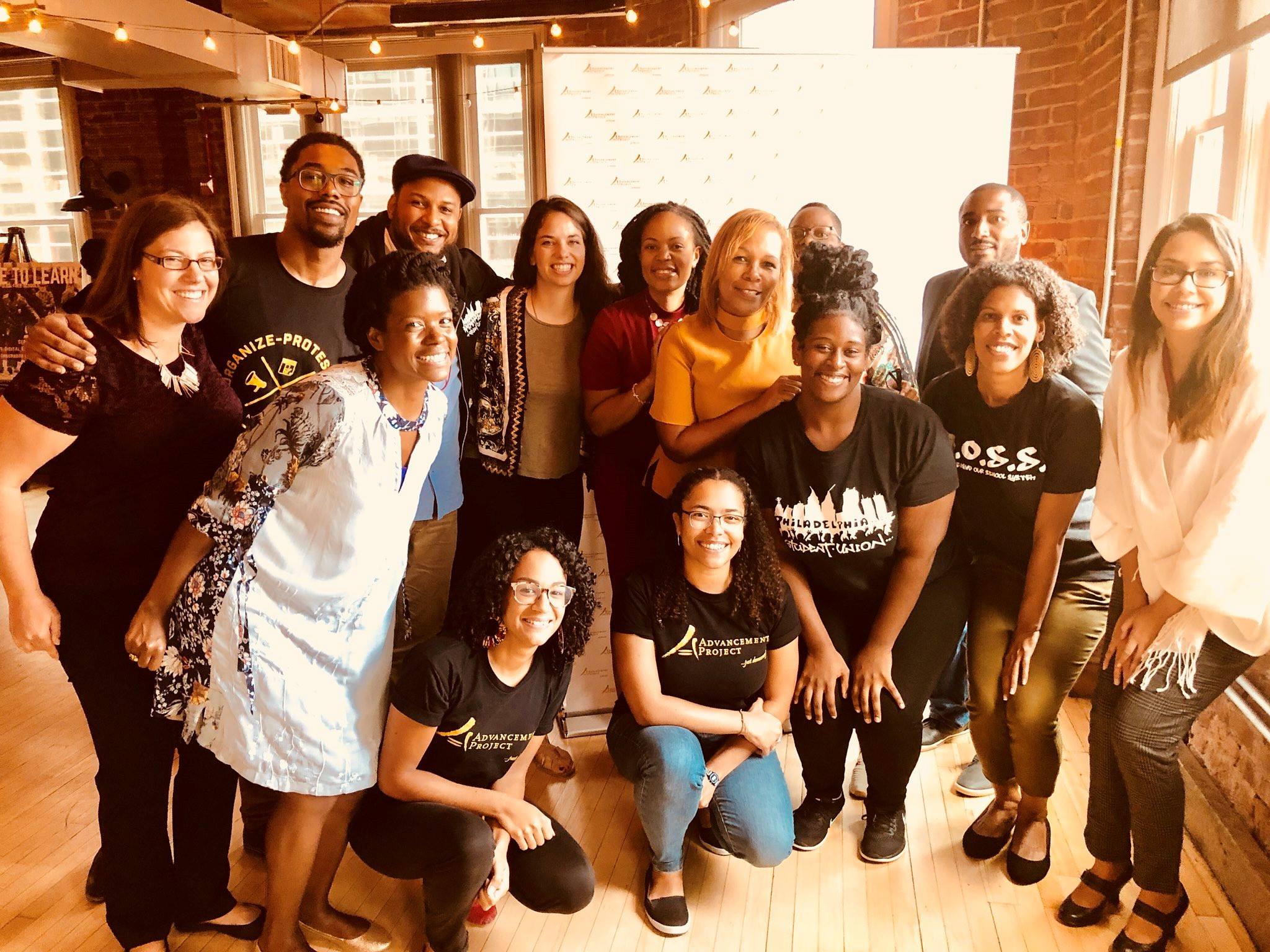 [Image description: Poses with coworkers from Advancement Project at the Launch of the We Came to Learn Report]
Andover and Dartmouth were excellent illustrations of the difference in student support. Jessica states that Andover did a wonderful job of providing the little things to allow students on financial aid to still feel they belonged and to ensure they were not excluded from activities for economic reasons. Unfortunately, Dartmouth provided none of that. Almost everything from student activities to joining a fraternity or sorority depended on money, making the experience very different for those students, like Jessica, who needed to work to support themselves.
Jessica recognized early in life that race and class are the primary predictors of how children's educational experience will turn out in the American school system. The work she does now attempts to provide the quality, exceptional, diverse and safe educational experience that already exists for most rich white students to the thousands of poor Black and Brown students who the U.S. education system has neglected.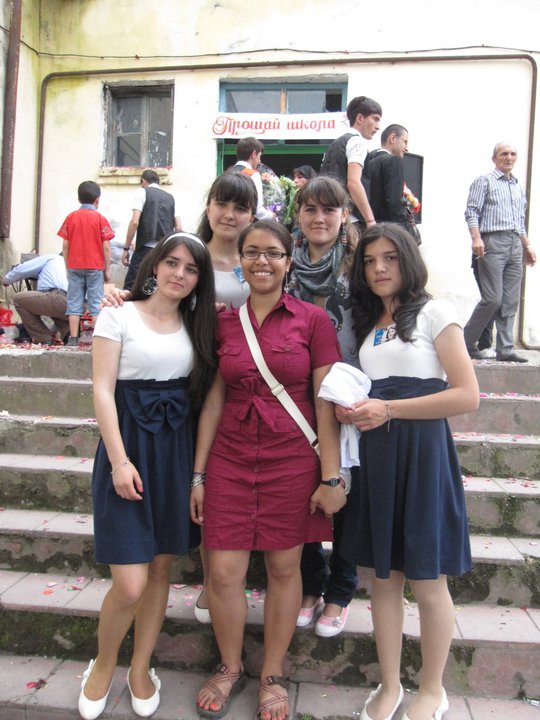 [Image description: Jessica stands (center) with some of the ladies from Zaqatala, Azerbaijan, including Konul and Zeyneb who participated in the awarding of the Kate Raftery Emerging Leader Award last month]
When asked about what brought Jessica to Peace Corps, she stated that she likes to tell her friends that joining the Peace Corps was subconsciously imprinted in her brain from one of her favorite childhood movies, Dirty Dancing. The main character, Baby, claims that she is going to join the Peace Corps after the summer is over. However, Jessica believes she did not register the Peace Corps mention in the movie until after she had already applied. Though Jessica knew she wanted to go to graduate school after completing her undergrad, she remained undecided on the subject she wanted to study. Recognizing a desire to do something else for a bit after graduating from college, she attended a Peace Corps informational session in her senior year. Jessica believed it would be a great opportunity because she wanted to help people but could not yet articulate in what capacity, she wanted to live abroad, and she had student loans. Peace Corps checked all of her boxes and had a repayment benefit for her loans.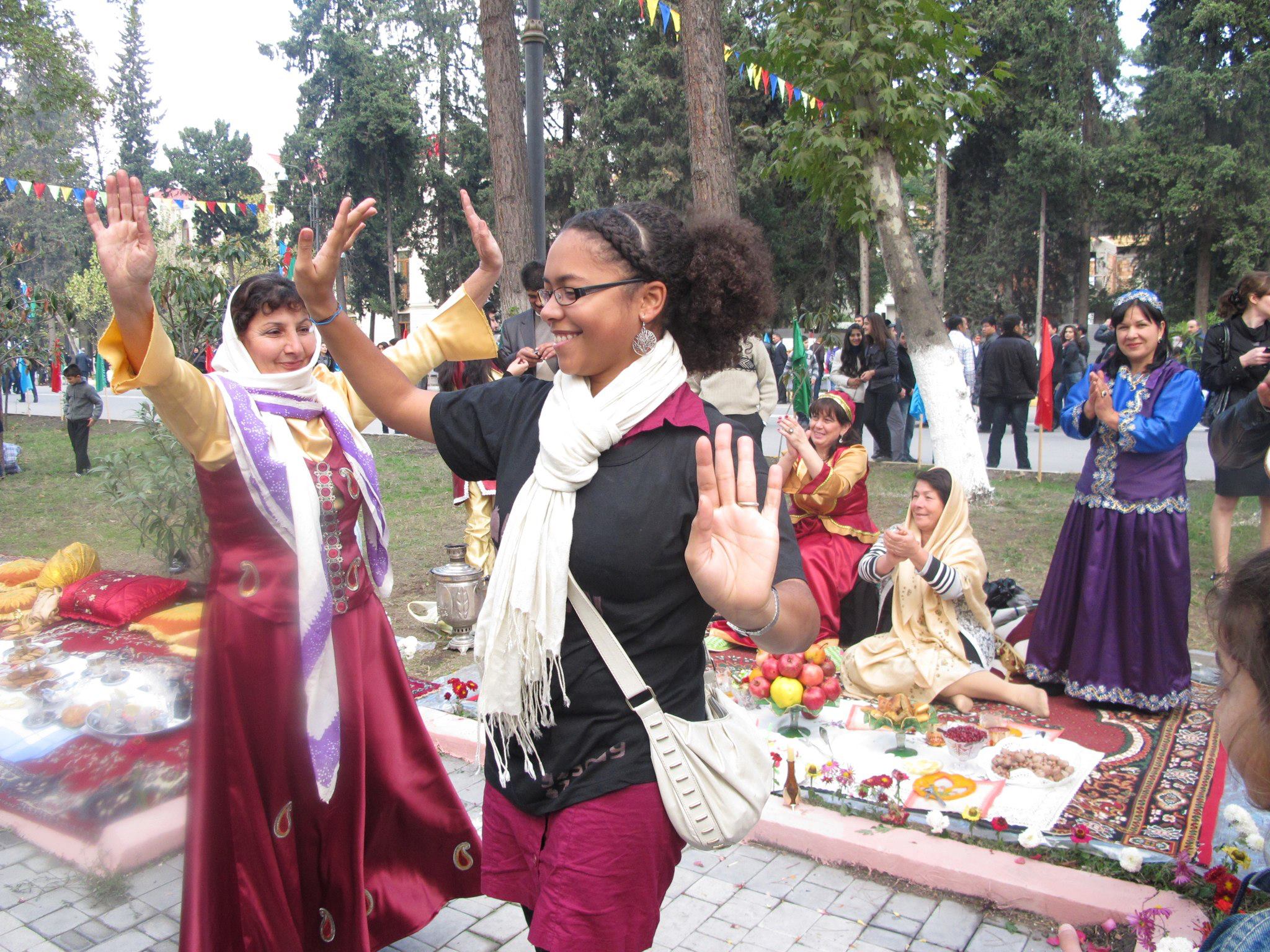 [Image description: Jessica dances at a Novruz celebration in Azerbaijan]
Initially, Jessica wanted to serve in Latin America as a Youth Development (YD) volunteer since she is a native Spanish speaker. Unfortunately, because of bad timing due to difficulties getting the appropriate health insurance paperwork for the application, there were no YD positions open in Latin America by the time her application was complete. Ultimately, she served in Azerbaijan, a country she had not heard of and would never have chosen. Despite ending up on the other side of the world, Jessica states that she is extremely grateful for her placement.
Jessica feels that the primary lesson from her time in the Peace Corps that still guides the work she does today is "the belief that sustainable change is possible - but only if those most affected are the ones involved in and invested in bringing about that change. My work as a lawyer is in service of communities - of people on the ground who have the answers and are fighting for the change they want to see."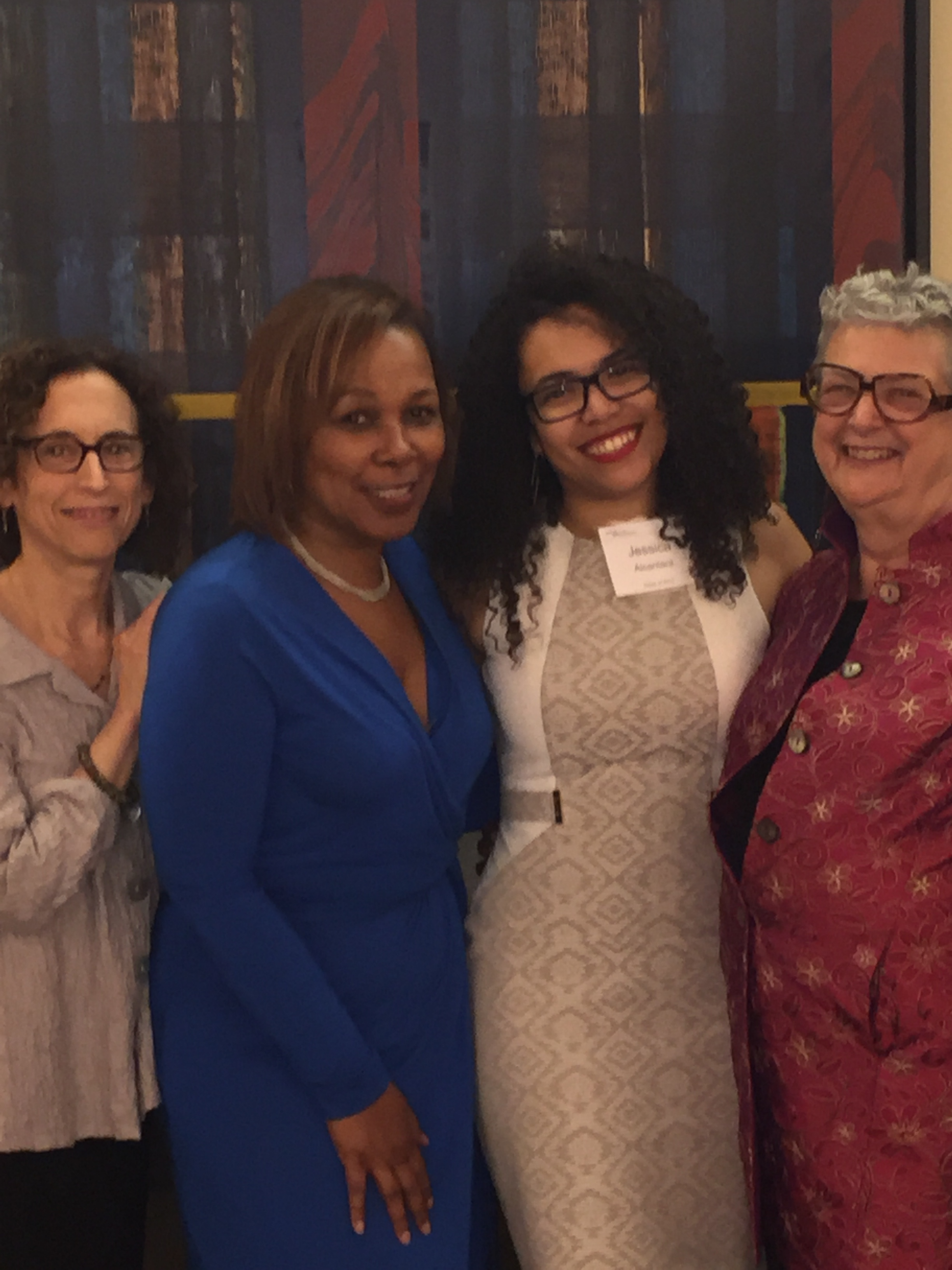 [Image description: Jessica smiles with Columbia Law Mentors]
Jessica's dream is to be out of a job one day because the educational promises this country has made to Black and Brown children has finally been fulfilled. Until then, she sees herself continuing in the fight while building more knowledge and skills as time goes by.
Jessica shared that she has been inspired by many people. When asked who inspires her, she is reminded of the great teachers she had in each school she attended and how their dedication to their work made it easier for her to learn, be curious, and grow as a student. She is also inspired by the young women she worked with in Azerbaijan, who welcomed her into their lives and families. She feels inspired further by all of the organizers that she has had the chance to meet and work with, seeing how their passion and love for their people drive their work.
When asked what advice she might have for young women and girls who wish to become leaders, Jessica said: "I'd say YAY! and that there is a whole community of people rooting for your success. Don't be afraid to follow your gut or instincts - I've followed mine, and I'm pretty happy with where I'm at so far. Sometimes people will offer well-meaning advice, but that serves to dissuade you from pursuing a goal. At the end of the day, you are the one living your life and the one that will wake up with that regret. I had plenty of people telling me not to go to grad school, law school, or join the Peace Corps. I listened to their concerns, but ultimately, I made my own choices and followed my instincts. I've been happy with the choices I've made, and I think that joy shows up in my relationships, both personally and professionally."
She would also say that "confidence and humility go a long way. Get rid of that imposter syndrome right now! The leaders I have admired the most have been ones who have been sure of themselves and confident in their own abilities, while also recognizing that everyone has strengths they bring to the table."
We are very grateful to Jessica for her contribution to our blog and her contribution to our world. If you would like to find out more about Jessica and the Kate Raftery Emerging Leader Award (KRELA), check out the recording of our inaugural award ceremony on our website and on YouTube. If you know a woman who is 35 or under and an emerging leader supporting women and girls in her community or around the world, Women of Peace Corps Legacy is looking for nominations for 2021 KRELA. Click here to find out how to nominate.