On February 24th, 2022, Vladimir Putin launched a full-scale military assault on Ukraine, including attacks on civilians. Many Ukrainians have fled; many others are staying and fighting to defend their communities.
Members of the Peace Corps community rapidly mobilized to assist Ukrainian friends, family members, colleagues, and communities. They are advocating, sending donations of money and supplies, engaging mass media, and directly assisting friends in need of transportation, housing, money to survive, and sponsorship. Learn more about Russian aggression in Ukraine and what you can do to help.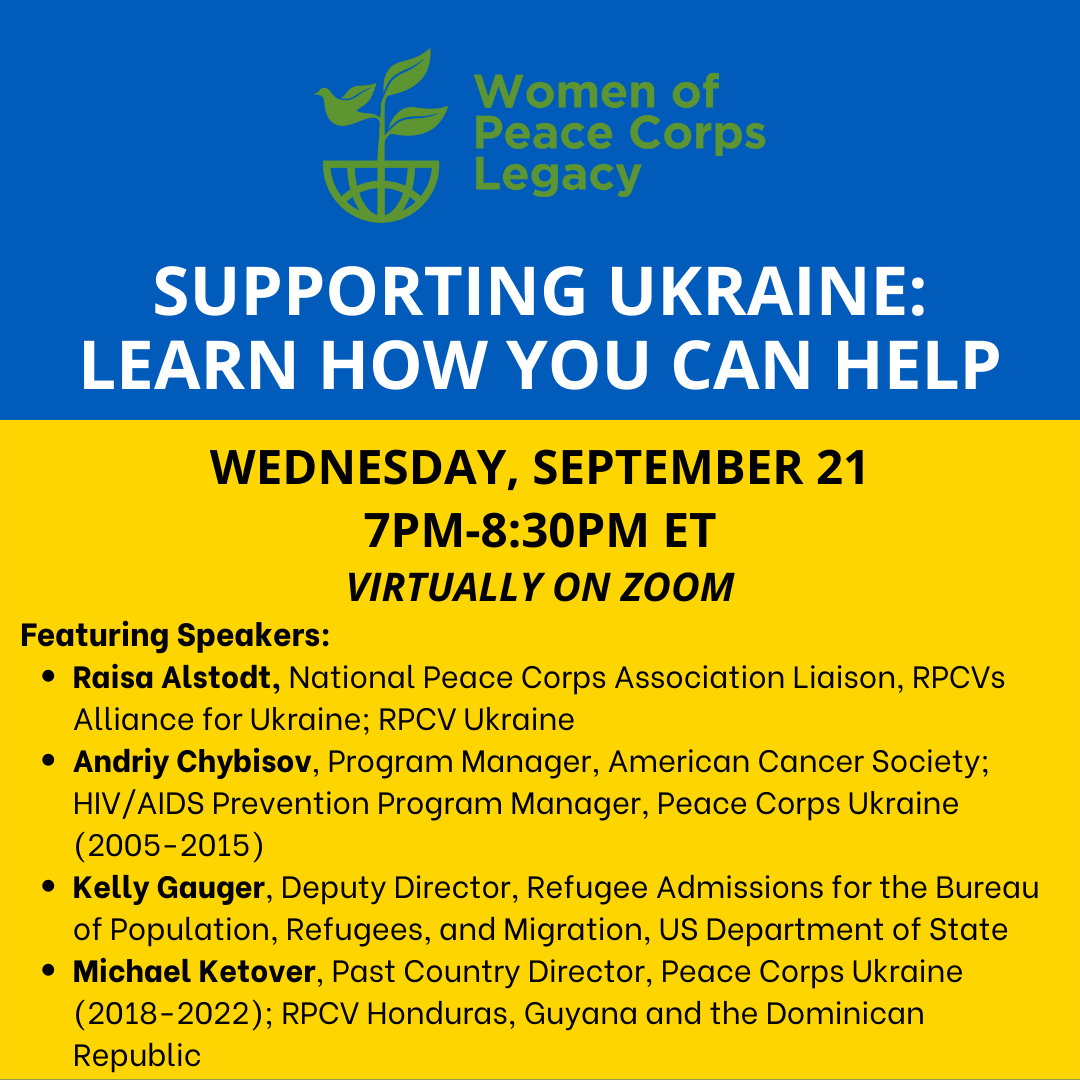 Panelists:
Raisa Alstodt is the National Peace Corps Association Liaison for the Returned Peace Corps Volunteers Alliance for Ukraine. Raisa taught English with Peace Corps in Ukraine from 2019-2020, before being evacuated for COVID. Raisa now works with the Supplemental Nutrition Assistance Program with Food and Nutrition Service under the US Department of Agriculture. She is passionate about education and food accessibility.
Andriy Chybisov was formerly the HIV/AIDS Prevention Program Manager for Peace Corps Ukraine from 2005 to 2015. He is currently the Program Manager for Global Capacity Development and Patient Support at the American Cancer Society. Andriy has been in the US for some years now, and has been instrumental in setting up an emergency cash assistance program for Ukraine's families in the first days following Russia's full-scale invasion.
Kelly Gauger is the Deputy Director in the Office of Refugee Admissions at the U.S. Department of State's Bureau of Population, Refugees and Migration in Washington. As such, she contributes to the formulation and execution of U.S. policy on refugee resettlement to the United States. Her work includes development of PRM's $400+ million budget for the U.S. Refugee Admissions Program (USRAP) and oversight of PRM's worldwide overseas refugee processing infrastructure. Kelly joined PRM as a Presidential Management Intern in 1999 and served in a variety of positions in the Admissions office prior to becoming Deputy in 2011.
Michael Ketover served as PC Country Director in Kyiv, Ukraine from Feb 8, 2018 – Jan 1, 2022. Before this, Michael worked with USAID, the US Department of Commerce's Office of the Inspector General, and as a poverty law and human rights attorney. Michael now works with AmeriCorps' National Civilian Community Corps as Director of Performance. Michael served as a Peace Corps Volunteer in Honduras, Guyana and the Dominican Republic (Crisis Corps) and with VISTA in southern Arizona. Michael has a band called Love Over Anger Music that plays '70s rock and roll.
Please share with your networks!