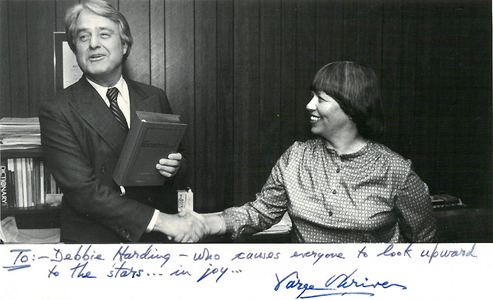 About the Award
The Deborah Harding Women of Achievement Award honors Peace Corps women whose contributions have made a significant difference in the lives of women and girls in the world. Awardees are recognized in a public ceremony in October.
Who is Deborah Harding?
Dr. Deborah Harding was the founder of the Liberian Education Trust, a transition initiative to help rebuild the education system destroyed by a 14-year civil war. The Trust brought access to education for thousands of Liberian girls and market women. She was Co-Founder of the Network for Human Rights in Liberia in the mid-80s. In 2013 President Johnson Sirleaf awarded Debbie "Dame Grand Commander Humane Order of African Redemption" for her support to the Liberian nation.  Debbie undertook assuring gender equality in recruitment and placement of Peace Corps Volunteers and of hiring staff in the mid 70s. She established the Women in Development Program at the Peace Corps and had its language included in the Peace Corps Act. She is a founding member of Women of Peace Corps Legacy (WPCL).
2022 Awardee- Dr. Theresa P. Castillo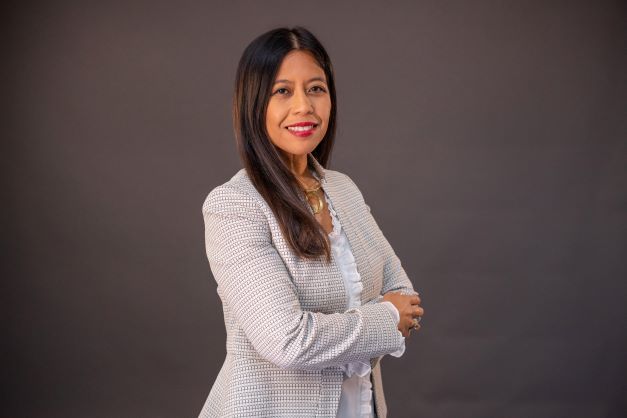 Women of Peace Corps Legacy is pleased to honor Dr. Theresa P. Castillo as the 2022 winner of the Deborah Harding Women of Achievement Award.  Informed by Peace Corps service early in her career in Turkmenistan, Morocco, and Mali, Theresa has worked in the fields of gender, social justice, and health equity for more than 25 years, and has helped thousands of women and girls around the world.  
Working primarily in resource-poor settings across Asia, North America, and sub-Saharan Africa, Dr. Castillo has collaborated with various non-governmental organizations, UN agencies, and Ministries of Health to strengthen public health systems. Dedicated to community-led innovation, her work centers around co-creation and partnership with multidisciplinary actors. Her research is dedicated to immigrant, refugee, and indigenous women and girls' health issues.  A strong advocate of holistic concepts of health and integrated healing, Dr. Castillo serves on several health equity committees, peer-review journal panels, and presents globally on gender, SRH, youth and indigenous rights. Currently, she is the Chief Program Officer at HealthRight International and teaches at Bard College's Globalization and International Affairs, New York University's School of Global Public Health, and Teachers College, Columbia University. 
---
In case you missed the 2022 awards event, you can watch the recording of Women and Girls Win Award Celebration (recorded on zoom). October 11, 2022, 7:00pm ET, below or on WPCL's YouTube Channel. 
Nomination Process
Nominations are open from February 15, 2023 to June 15, 2023 for the Deborah Harding Women of Achievement Award. 
Nomination Requirements
Nominees must be women with an acknowledged connection to Peace Corps. This includes: Returned Peace Corps Volunteers and/or current or former Peace Corps Staff (U.S. direct hire or contractor).

Nominees must have made or be making significant and lasting impact in the lives of women and girls. This can be widely interpreted to include all the different areas where one can have an impact – health, education, the environment, mentoring, sports, economic empowerment etc.

Nominations must be supported with concrete examples that demonstrate the scope and long-term impact of the nominees' efforts to benefit women and girls in 1000 words or less.

The nominee must be living.

WPCL recommends that you keep your nomination confidential in case your nominee is not selected.
Evaluation Process
1. The evaluation committee will be  determined by the Women of Peace Corps Legacy Awards Committee co-chairs.
2. All nominees will be evaluated against other candidate submissions.
3. Nominations will be reviewed for the unique and significant contributions of the nominees, scope or reach of their work, and their impact on women and girls.
4. Nominations are open from February 15, 2023 to June 15, 2023. 
5. The award will be made to one individual and will be presented at a special awards ceremony in October.