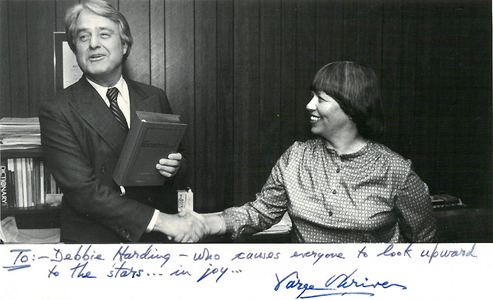 About the Award
The Deborah Harding Women of Achievement Award honors Peace Corps women whose contributions have made a significant difference in the lives of women and girls in the world. Awardees are presented the award in a public recognition ceremony during the annual National Peace Corps Association Conference.
Who is Deborah Harding?
Dr. Deborah Harding is the founder and President of the Liberian Education Trust, a transition initiative to help rebuild the education system destroyed by a 14-year civil war. The Trust brought access to education for thousands of Liberian children, especially girls and market women. She was Co-Founder of the Network for Human Rights in Liberia in the mid-80s. In 2013 President Johnson Sirleaf appointed Debbie Dame Grand Commander Humane Order of African Redemption for her support to the Liberian Nation.

Deborah served for nine years as the Soros Foundation/Open Society Institute's International Vice President until she retired in 2005, championing the rights of Roma and supporting civil society and human rights and democracy building in East and Central Europe. She was also the Program Officer for political development in Central and Eastern Europe at the German Marshall Fund of the United States from 1986 until 1996. She was awarded the Knight's Cross Order of Merit by the President of Poland for her work in support of Polish democracy.

Deborah was the founding Executive Director of the Peace Corps Institute from 1981 until 1983. She has served Peace Corps in multiple roles over decades as a trainer in 23 African countries; Acting Deputy Director, Cameroon; Director of Placement; and Special Assistant to Directors Dellenbach and Payton. She negotiated Peace Corps' re-entry into Tanzania, and developed the strategy for Peace Corps entry into Eastern Europe in the early 1990's. Her contributions to issues of women and girls globally have their roots in her work to systematically open Peace Corps recruitment, placement and programming to women, and to amend the Peace Corps Act to include Women in Development language in 1977.
Nomination Process
We are no longer accepting nominations for our 2019 award.  Please look out for our call for 2020 nominations in the fall!
Nomination Requirements
Nominees must be women with an acknowledged connection to Peace Corps. This includes: Returned Peace Corps Volunteers and/or current or former Peace Corps Staff.
While there is only one award annually, multiple individuals can be nominated as part of a group award. All members of the "group award" would need to be affiliated with Peace Corps.  
Nominees must have made or be making significant and lasting impact in the lives of women and girls. This can be widely interpreted to include all the different areas where one can have an impact – health, education, the environment, mentoring, sports, economic empowerment, etc.
Evaluation Process
1. The evaluation committee will be made up of three or four women determined by the Women of Peace Corps Legacy Board.
2. All nominees will be evaluated against other candidate submissions.
3. Applications will be reviewed for the unique and significant contributions of the nominees, scope or reach of their work, and their impact on women and girls.
4. Applications will also be reviewed against the mission and goals of Women of Peace Corps Legacy.
5. Nominations will be accepted online through March 31st and the award recipient will be announced by May 31st of each year.