For Pride Month this year, we would like to turn our attention to two amazing RPCV's, Roma Guy and Diane Jones, both recipients of the Women of Peace Corps Legacy's Diane Harding Award.
Roma Guy was born at the northern Maine & Canadian border in 1942. At that time in history Roma says that she was "born a criminal" because of her sexual identity as a lesbian. Over time, Roma learned to recognize these social identifiers, own them, and then eventually enjoy them in an historic personal and social struggle despite her confusion and fear at a younger age.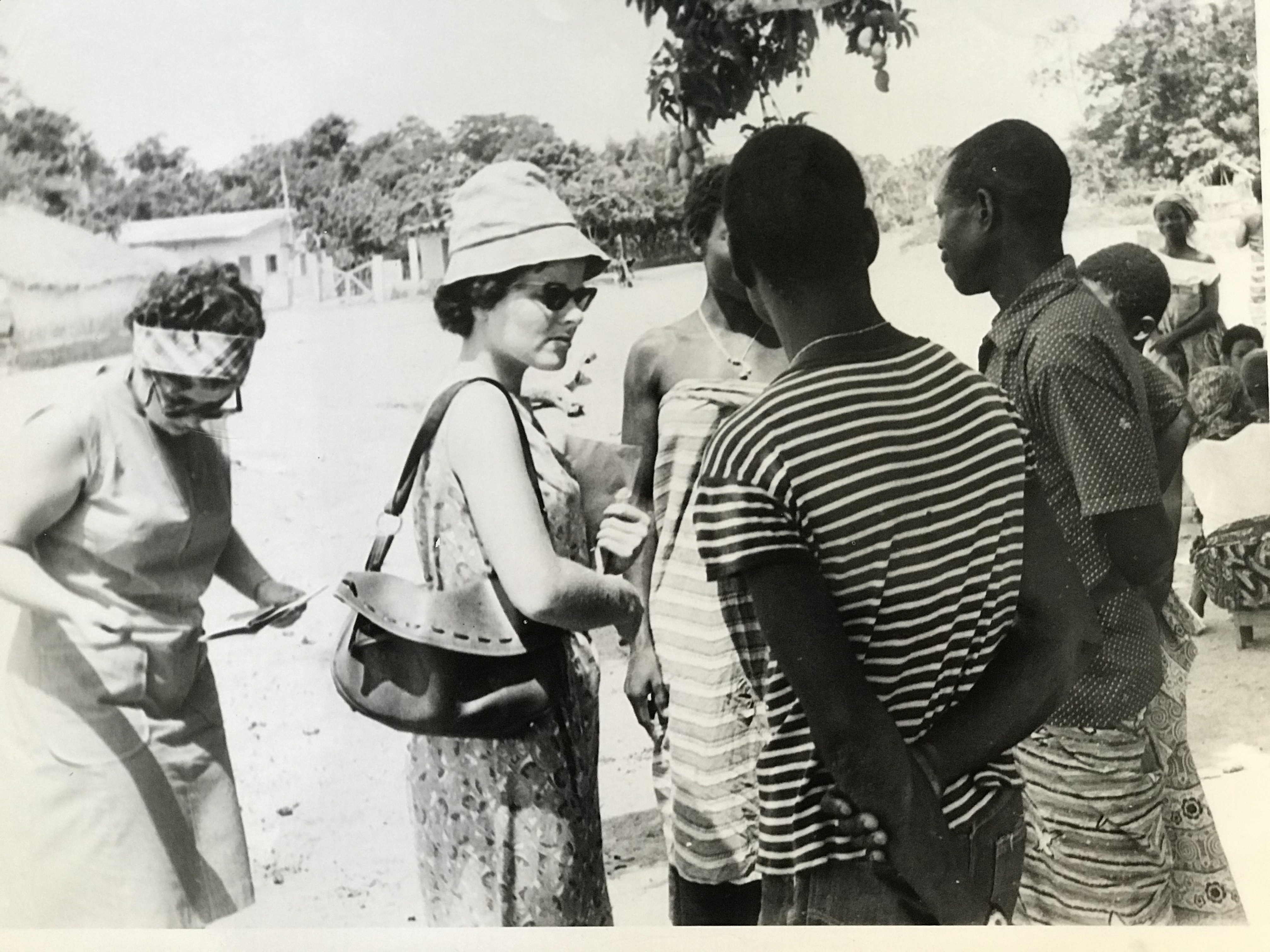 Roma Guy, Peace Corps Volunteer, Cote d'Ivoire
In 1962 Roma joined the Peace Corps as part of the first group of volunteers invited to serve in Cote d'Ivoire, West Africa. Roma was was assigned to the town of Bondoukou, along an ancient trade route between Egypt, across the Sahara Desert ending at the Atlantic Ocean borders of the Gold Coast. This group of Volunteers, with guidance and support from staff and the Ivory Coast health system, opened a community-based literacy and health education center for women. During her service she moved to a central region to Tiebissou Village. In her village she developed and expanded comprehensive health education and programs, such as digging water wells and creating village links to the nearest health care center on "market days" in the regions.
Roma shared the following on her time in the Peace Corps:
"A life giving, deep core experience, personally and socially I absorbed history, cultural beliefs and what it takes to accomplish structural change especially related to who defines who we are, the focus needed over time including the importance of local and institutional leadership and consensus. I learned who I am during this tiny moment alive on the planet."
In 1967-68, Roma enrolled at Wayne State University in the MSW program, studying community organizing and urban planning. In 1967, she was an organizer in an all-Black elementary school in the middle of the Black community. Her colleagues included a white principal, a diverse staff of teachers, and a superintendent who was a "cool-headed, rabid anti-union, anti-Communist overseer of the whole area." Then it happened: July 23, 1967 Detroit exploded, Roma remembers it as a "Black Rebellion (a riot for some)…fight or flight?" She needed to know how to move with the protest, the resistance, and the negative and positive consequences. This included harnessing what she called "the energy and focus of movement building to change the history of former slaves, Jim Crow, second-class citizens. I stood with the teachers, experienced the terror of policing, stayed on point bringing the social and educational needs of poorly resourced public schools."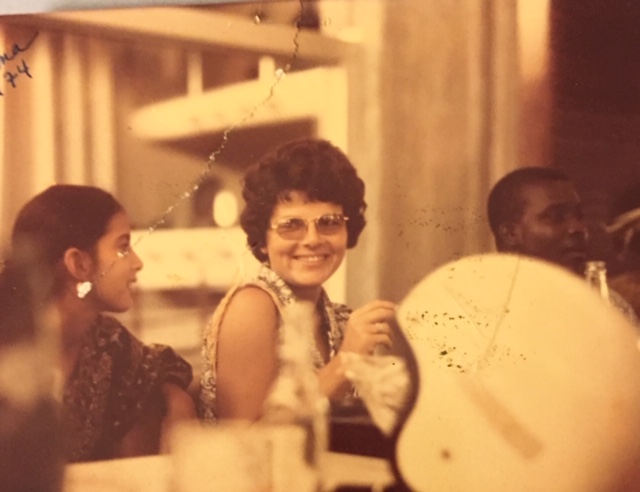 Diane Jones, Peace Corps Volunteer, Togo, West Africa
In 1972 Roma met Diane Jones, her life partner, who she married legally in 2008. The two met in Togo, West Africa when Roma was recruited by the Peace Corps to direct a training program. Since her return to the U.S. she has conducted and participated in training programs and evaluation for the Peace Corps. She also worked on the opening of new sites in Africa for the Peace Corps in Côte d'Ivoire, Mali, Cameroon and Tanzania. On one of those training programs in Togo, West Africa, she met Diane. While the two fell in love, Roma says that she "was still in flight, a significant case of denial mode!" Through ups and downs, turmoil, love letters back and forth, they acknowledged their loving moments and enjoyed the fun and strength love brings home.
Roma's story of activism in San Francisco was featured in the ABC miniseries "When we Rise", directed by Lance Black, and released in 2017.
Diane was a Peace Corps volunteer assigned to support health clinics in her site in Togo. This is what spurred Diane's lifelong career. Today, Diane is an RN which she credits to her experience in Togo. She returned to the U.S. to attend midwifery school.
Both Diane and Roma went on to lead very rich careers in public health which was mostly impacted by the rise of HIV/AIDS. Diane played a critical medical role in the start of the hospital-based, community-centered, and individual care known as the "SF Model". Diane has been part and parcel of San Francisco General Hospital and the University of California team for 35 years. In addition to her work in San Francisco, Diane conducted several HIV trainings in Cote d'Ivoire between 2009 and 2010. Today, she and her team of infectious disease specialists have pivoted to apply their skills and values to Coronavirus pandemic. In the wake of the Coronavirus pandemic Diane and Roma were recently featured on KQED FM. They were interviewed by Scott Shaeffer, which was aired on PBS in May 2020.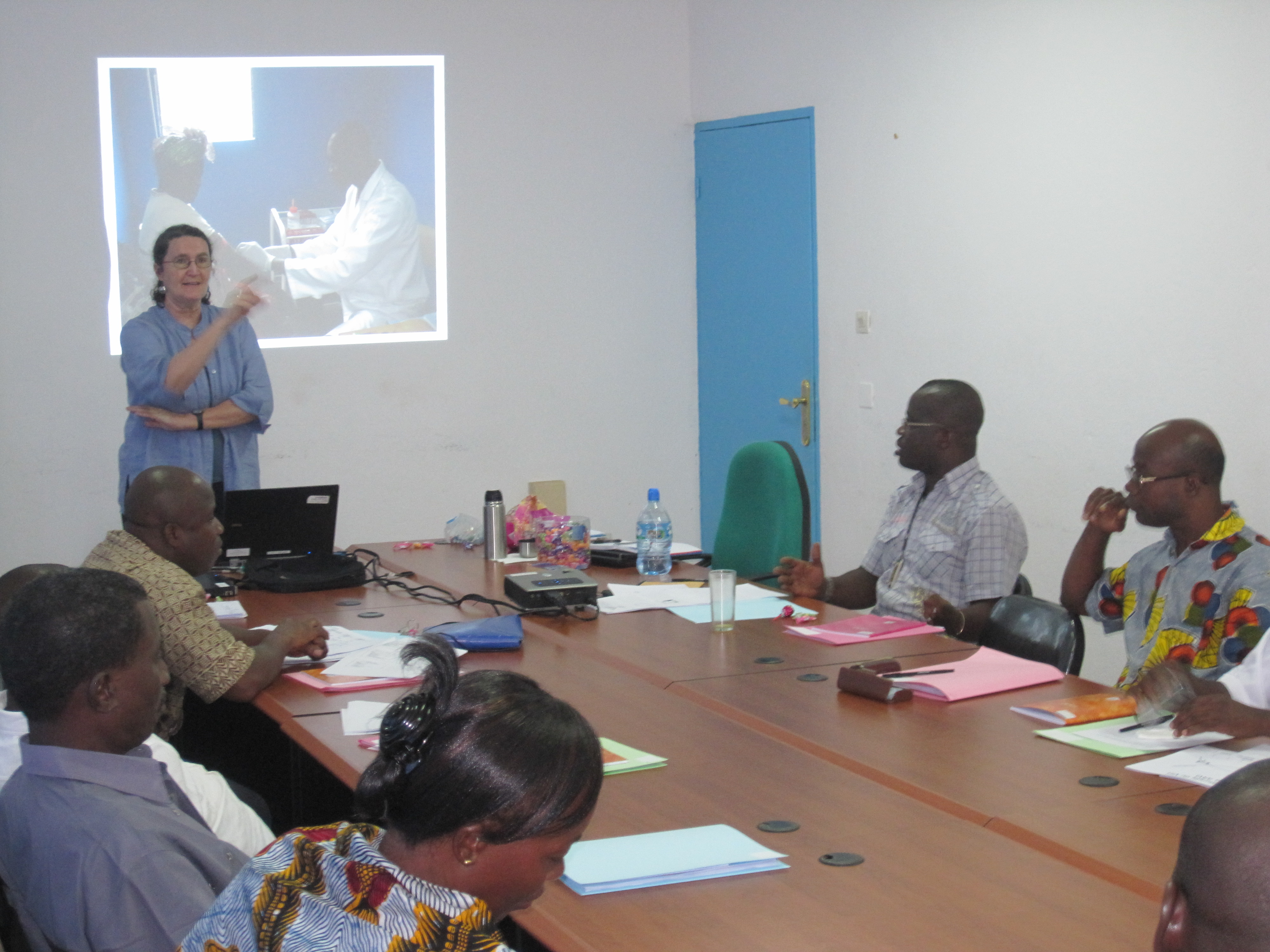 Diane leading HIV training in Côte d'Ivoire.
Currently, Roma and Diane live in San Francisco with their extended family, including their three grandchildren.
Even after a long, distinguished career, Roma says that her focus remains on "women, cis/trans rights, health rights for all, decarceration of San Francisco jails." She is also very focused on "how the latest police murder of George Floyd has finally smashed shield and armor projecting fear and harmful values and practices in the name of policing for safety."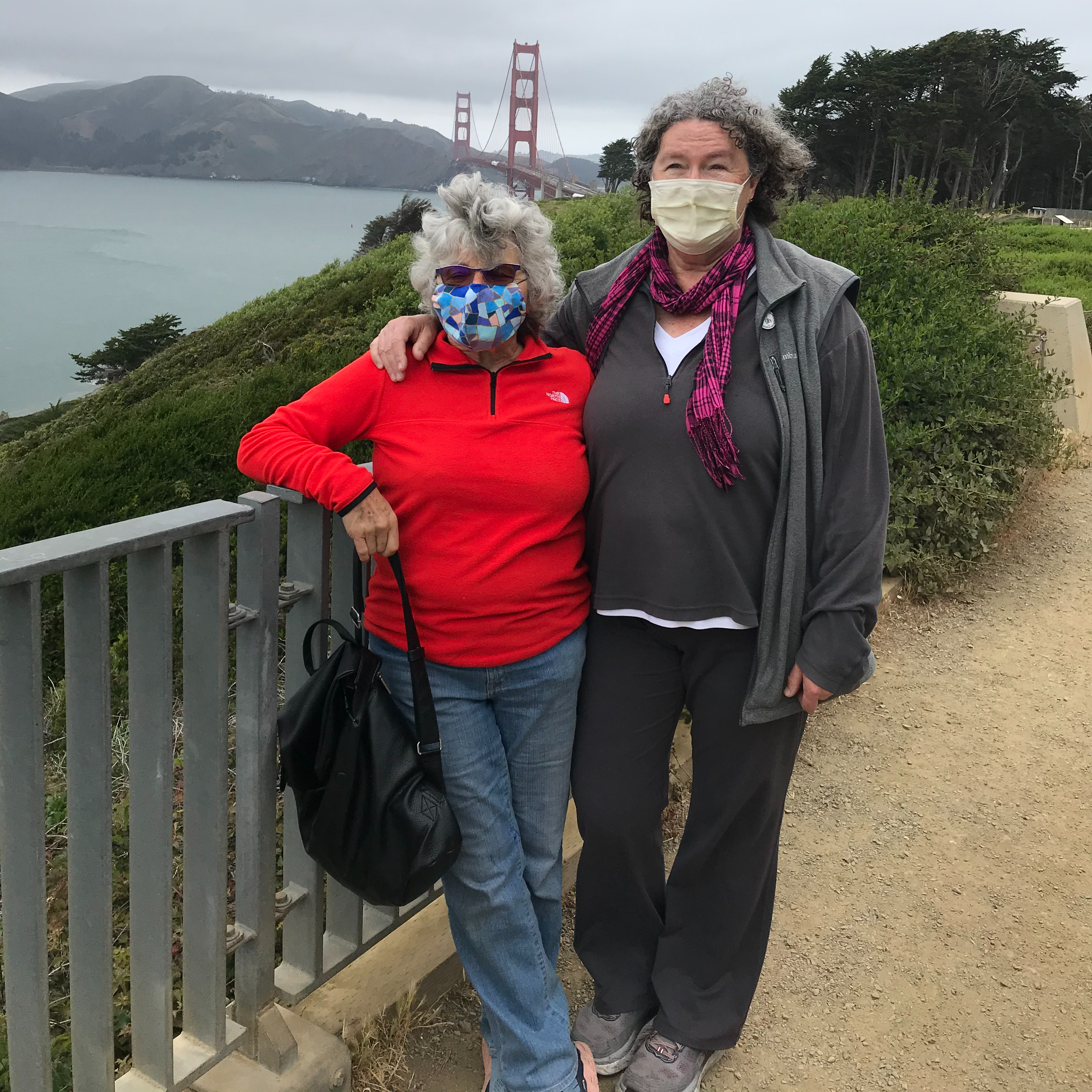 Roma and Diane on an early morning stroll in San Francisco
Roma's and Diane's advice to the RPCV community:
"Find your spot in the current movement for justice, Black Lives Matter at its core; commit to whatever place and ability you appreciate in yourself and be honest in your contribution. Grow beyond human fear, denial and flight by advocating for cultural and structural change based on practices of transparency and public accountability. Develop a baseline for equity---build and vote for equity of our taxation system so that we can invest with equity driven decarceration, housing, health care, real education for all our children and a safe climate change strategy for our children and grandchildren for at least 7 generations. VOTE! Locally, statewide, nationally and make voting safe and efficient for all. All our human rights and liberties are at stake."
For Roma, her "honest contribution" is working towards defunding racist housing and education policies and increasing access to mental health and substance use services. She is also engaged in breaking down the stigma of the poor and homelessness, all of which includes policing and incarceration.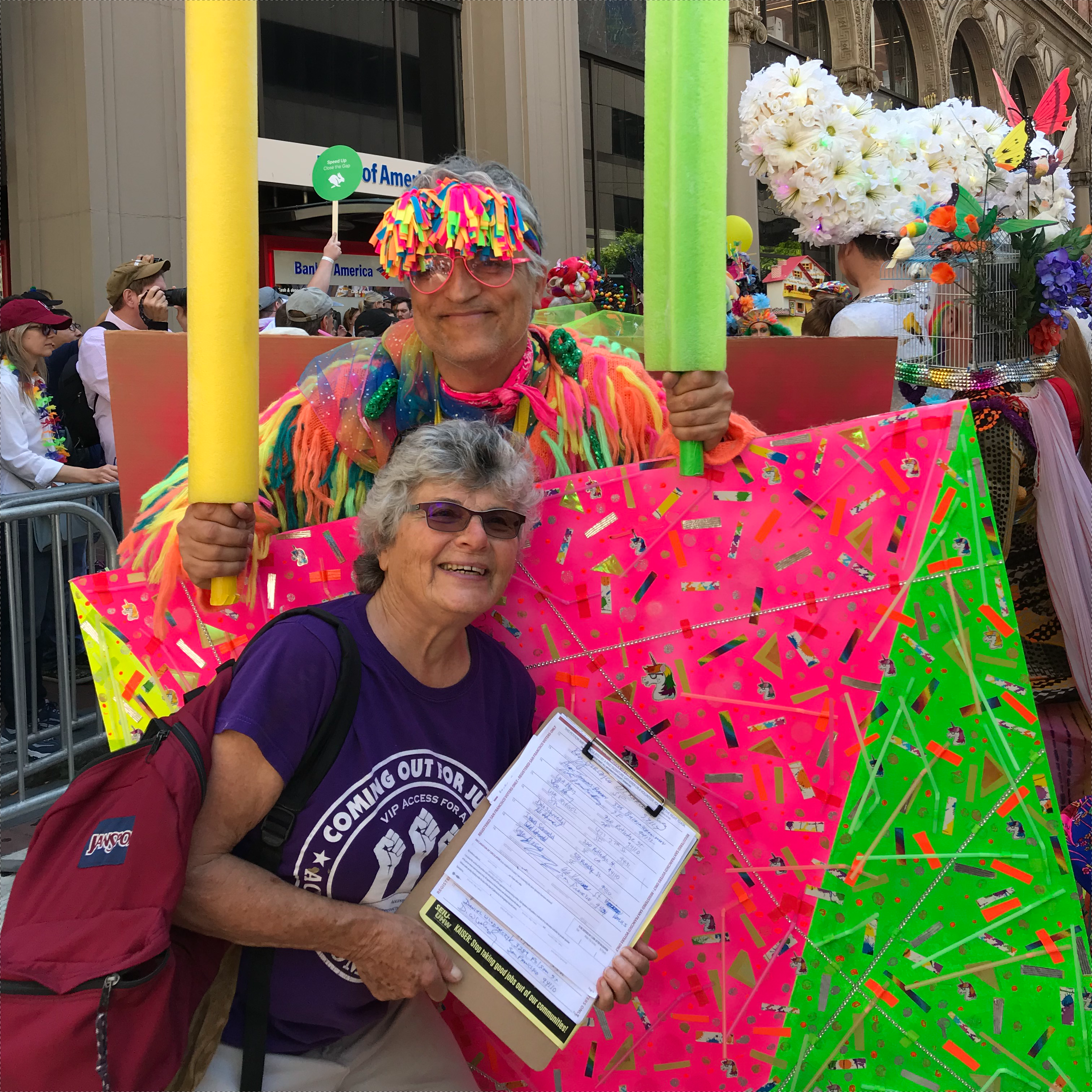 Roma Guy soliciting signatures for a tax reform petition at the San Francisco Pride Parade in 2018
In Roma's words, "PRIDE HONORS AND REPRESENTS personal and social struggles for action, resting, listening and reflection, protest and persistent focusing. Structural change takes consensus, usually first by a small group of people who are inspired and are willing to go for an imagined transformation by and for all of us. To change the rules of codifying our values, some of us must willingly account culturally and with leadership. That's what our current Movement spurred by Black Lives Matter and the current COVID-19 pandemic teaches."