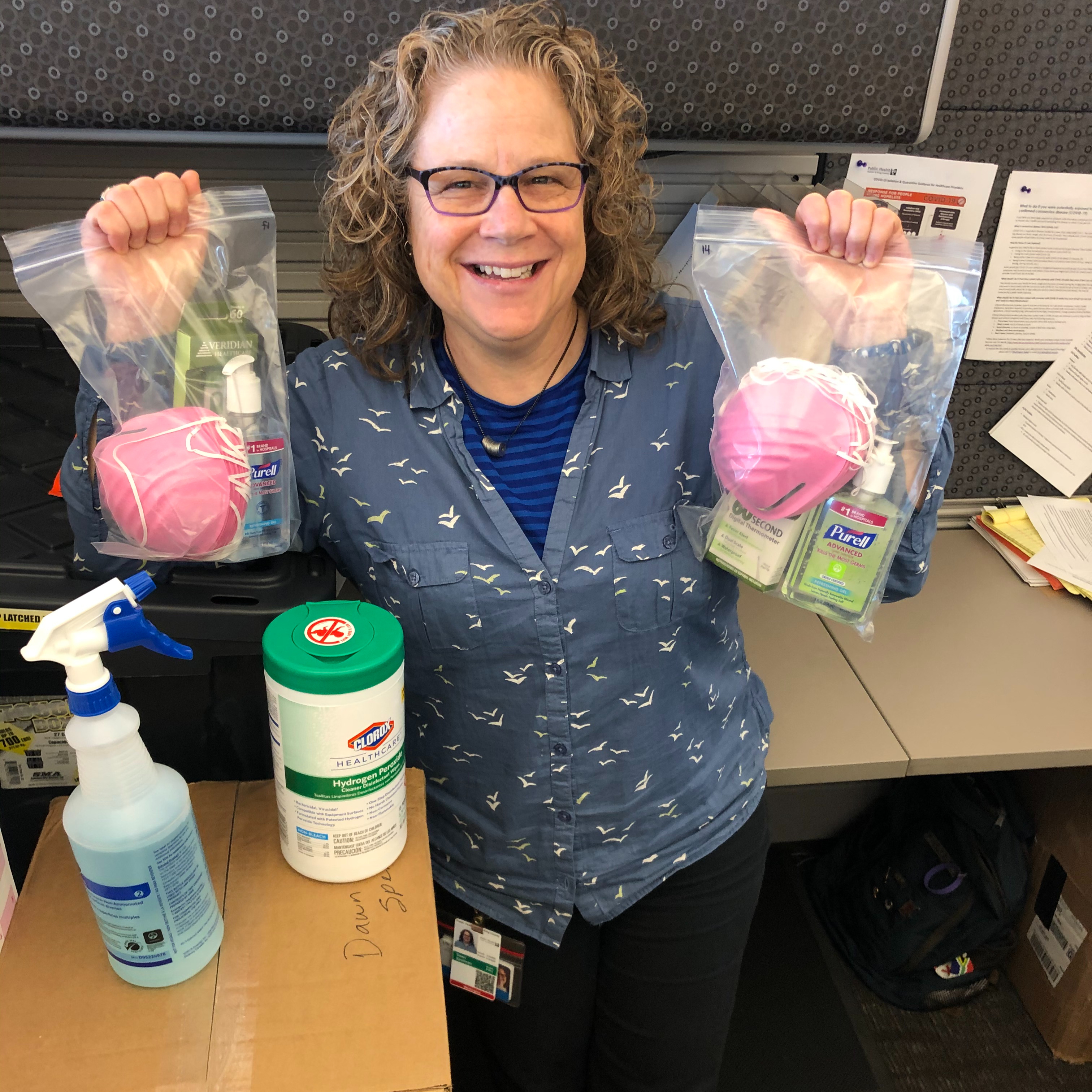 Meet Dawn Spellman, RPCV Zambia (2005-2008). Dawn is a Program Manager in Public Health- Seattle and King County. She has worked in the public health field for over 30 years. Most of that time has been in HIV/AIDS/STIs. In February of this year she was deployed to start working on the COVID-19 response with the Emergency Preparedness team.
On a daily basis she coordinates services in King County for those who are in isolation or quarantine at their home due to a positive Coronavirus test or as a contact of someone who tested positive. She and her team provide transportation, groceries, diapers, medical supplies, medicine and other things to help people stay safely in their home during this period. They also assist households with referrals if they have other needs such as rent, unemployment and medical assistance. Knowing this is not sustainable, they are currently exploring options with community partners to assist and delve deeper into long-term assistance.
Her current position does not allow her to telecommute which means that she is in the office 6-7 days a week. Dawn feels like one of the lucky ones because she lives alone, so in this scenario she is able to get some human face-to-face contact.
When asked how her experience in the Peace Corps trained her to work in the response to Coronavirus at the local level, Dawn says, "I used to think I was very patient and during my Peace Corps experience, I discovered I wasn't as patient as I thought. I learned a lot of new communication skills and most importantly I learned to manage my expectations. I realized I function well in situations with high chaos and I learned to make decisions in the moment quickly and with little information."
The response to the Coronavirus is dynamic and changing all the time. There are days where Dawn can leave one meeting with a plan of action and step into another meeting 10 minutes later and the entire plan has changed. She has learned to roll with the changes and always—manage her expectations. Peace Corps service helped her identify and grow those skills.
Sustainability is also at the core of all that she does. As the response and recovery efforts continue, Dawn hopes to collaborate with others and the communities themselves for long-term solutions. Dawn also sees lots of disparities in those that are directly impacted. "Whether it is this virus, natural disasters, economic downturns, climate change....It is always the same vulnerable communities and populations that are impacted the most. Fundamentally as human beings I keep wanting us to be better. My hope is that we have better systems, support and kindness going forward."
Dawn's advice to RPCVs looking to get involved in the relief efforts at a local level: "If you get involved in working this response, consider it a privilege. No matter what you are doing, it is changing lives for the better. We are in an emergency situation now where we are still trying to stop the bleeding. If you do work the response please always look for the future sustainability. There will be more disasters and difficulties and if we do good work now, that impact will be much less severe in the future." #WashYourHands